Our Story
earKART was founded in 2021 by Rohit Misra, a healthcare industry veteran and former Managing Director of Starkey India. earKART was founded to address the challenge of access to audiology service and a feature rich hearing aid at an affordable price for all. 

earKART  offers hearing aids from global manufacturers at competitive prices through our network of  1300 plus dealers in 181 locations. With our  own hearing aid brand, EQFY, we aim to provide classic bluetooth enabled, rechargeable, self-fitting hearing aids at an affordable price, helping people rediscover the joy of sound and enjoy premium features.
Our Mission
Access to quality hearing care for all
earKART™ was founded to bring high -quality hearing services to people with hearing loss. We believe that everyone deserves access to quality healthcare regardless of their location or financial status.
According to WHO estimates, in excess of 98.5 million people in India are faced with hearing problems , but not everyone has access to quality healthcare. We are committed to providing these services through our network of partners across India, who work tirelessly to provide top- notch care for their patients.
Our Passion

Improving the quality of life for people with hearing loss.

Advancing the hearing aid technology and making it more accessible.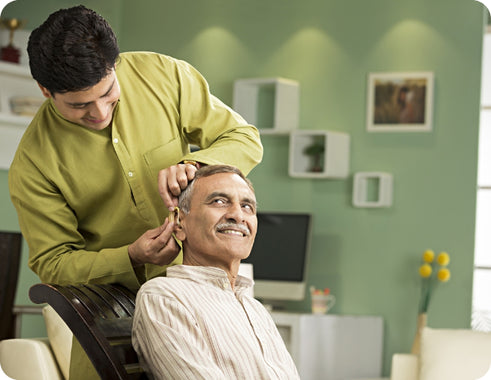 Reaching even the remotest parts of India with our services.

Making a positive impact on the lives of those we serve.
What makes us better for you?
We bridge the gap between service providers and patient's with hearing problem to offer unmatchable service
We ensure quality leads for our partner clinics, saving time and money for their practice
We have a strong customer support network to help people in no time.
earKART are the only online platform which allows hearing aid dispensers and patients to have access to all varieties of products from global manufacturers.
Customers will find top-rated global brands and amazing solutions at earKART .